A Zoom with Paul! Artcam, Carveco, Programmer
Behind the scenes at Leicester foiling and embossing die-maker, Tomlinson Ltd, is a whole team of skilled and talented individuals.
One of those skilled individuals is former Master Hand Engraver and now Artcam and Carveco Programmer at Tomlinson's, Paul Tillsley. Paul is calm, mild-mannered, warm and friendly and speaks with a light West Midlands accent which gives away his Halesowen heritage.
Paul reveals that he grew up in a family home that was filled with music. His father was a classically trained violinist who went on to become a professional musician leading a theatre orchestra arranging musical scores. Nostalgically, Paul recalls the many happy times he spent with his family at the theatre in support of his talented father and, as he talks, it shows just how deeply proud he is of his late father's talents and achievements.
It is evident that Paul inherited his father's natural artistic abilities which are expressed through drawing rather than music. I am intrigued to find out how he first launched into the somewhat specialised line of engraving. "I'd always been good at art at school," he says, "and obtained my 'O'Level Art qualification. But when my school careers officer asked me what I wanted to do, I replied that I wanted to work outdoors as I dreaded the thought of working inside parked at a workbench all day".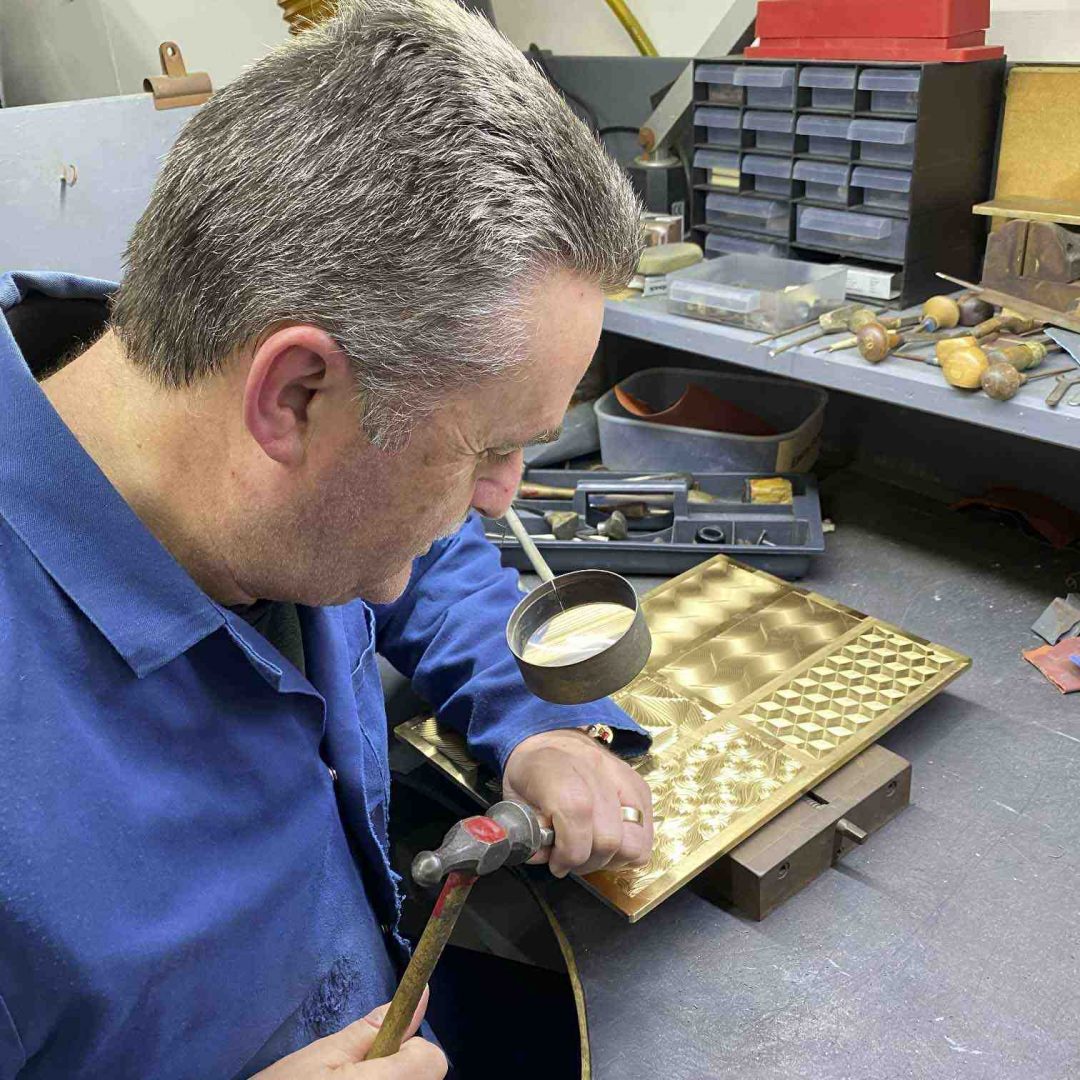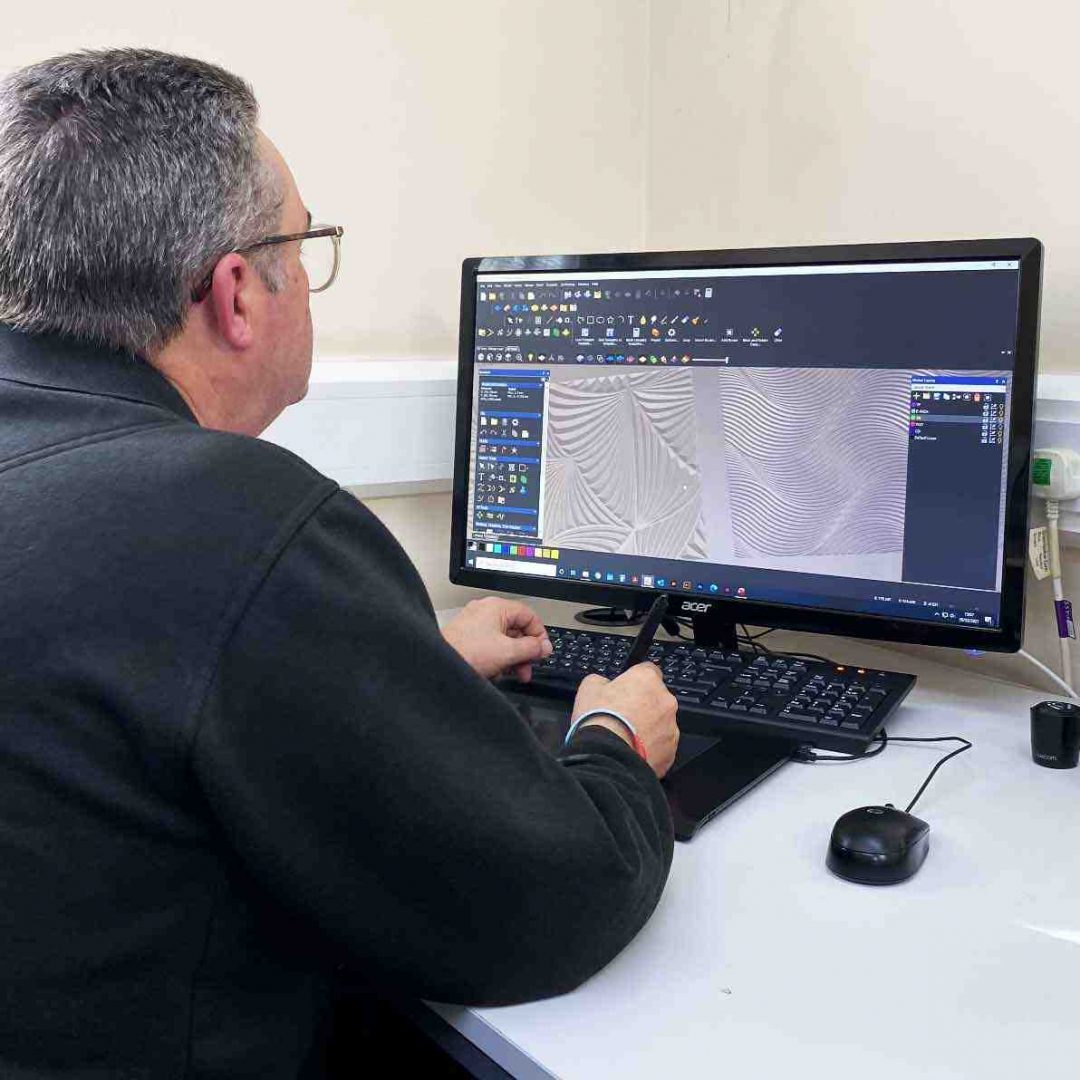 Enter…FATE!
And so, due to the absence of outdoor job opportunities, on leaving school in 1980 Paul applied for an apprenticeship with an engraving company local to his home and landed the job. Fortunately for Tomlinson, it seemed that his artistic talents would reign supreme, and that landscape gardening would simply have to wait! Having completed the three-year apprenticeship, he went on to spend a further fourteen years employed as an engraver at a die-sinking company in the Black Country before responding to a job advertisement in the local newspaper in 1997. After attending the interview with portfolio in hand Paul, unsurprisingly, was offered the job of 'Hand Engraver' at Tomlinson's.
"I've always been an engraver - I've never had another job.". He laughs, "You could say I've 'scratched a living'!". It turns out that that familiar term is not metaphorical after all!
I am interested to know how a hand-engraver would approach a unique engraving job - it's just so specialised and precise - in all honesty, an unsung skill. Personally, I can only envisage being presented with a blank piece of brass or magnesium, a miscellaneous set of engraving tools and a two-dimensional piece of artwork, topped off with the added expectation that I'll produce an accurately hand-crafted, detailed, three-dimensional rendition of said artwork - all within a limited timeframe. Not only that but I need to get it right first time to avoid starting all over again.
Paul explains that, before embarking on any actual engraving, he would need some key information - such as the level of fine detail required in the finished die, the weight of stock that the die would be used with, and whether or not the emboss would need to register with a print. Only then would he be able to determine how deep or shallow - or how intricately detailed - his engraving would need to be to achieve the desired finished effect.
"First of all, I'd scribe the original artwork outlines - similar to tracing - onto a piece of acetate" he informs, "and then I'd rub graphite into the scratched areas of the acetate, attach it to the blank die, and then burnish over it to transfer the outline onto the lacquered surface of the metal.". From there on, Paul's inherent talent for visualising how the finished article will look is key to producing a lifelike and believable three-dimensional engraving of the supplied two-dimensional artwork, whatever the image may be.
"Once I had an outline," he continues "I'd begin the engraving process using a number of different tools, such as different-shaped-and-sized chisels, a router for taking out larger areas, a burring tool and then various bits of kit for smoothing and blending".
Surely none of this can be done in a hurry? But Paul reminds me that, prior to the production of embossing dies on a CNC machine, the process had to be carried out manually and in the shortest possible timeframe. In addition, there was no margin for error, "There's no 'edit' or 'undo' button when engraving a piece of brass by hand!" he laughs, "and the only way to check the detail of the engraving was to make an impression into a piece of plastic". He further recalls, "But one of the most challenging things was when a customer requested a duplicate die and I'd be asked to create another engraving - or sometimes more - to match the first".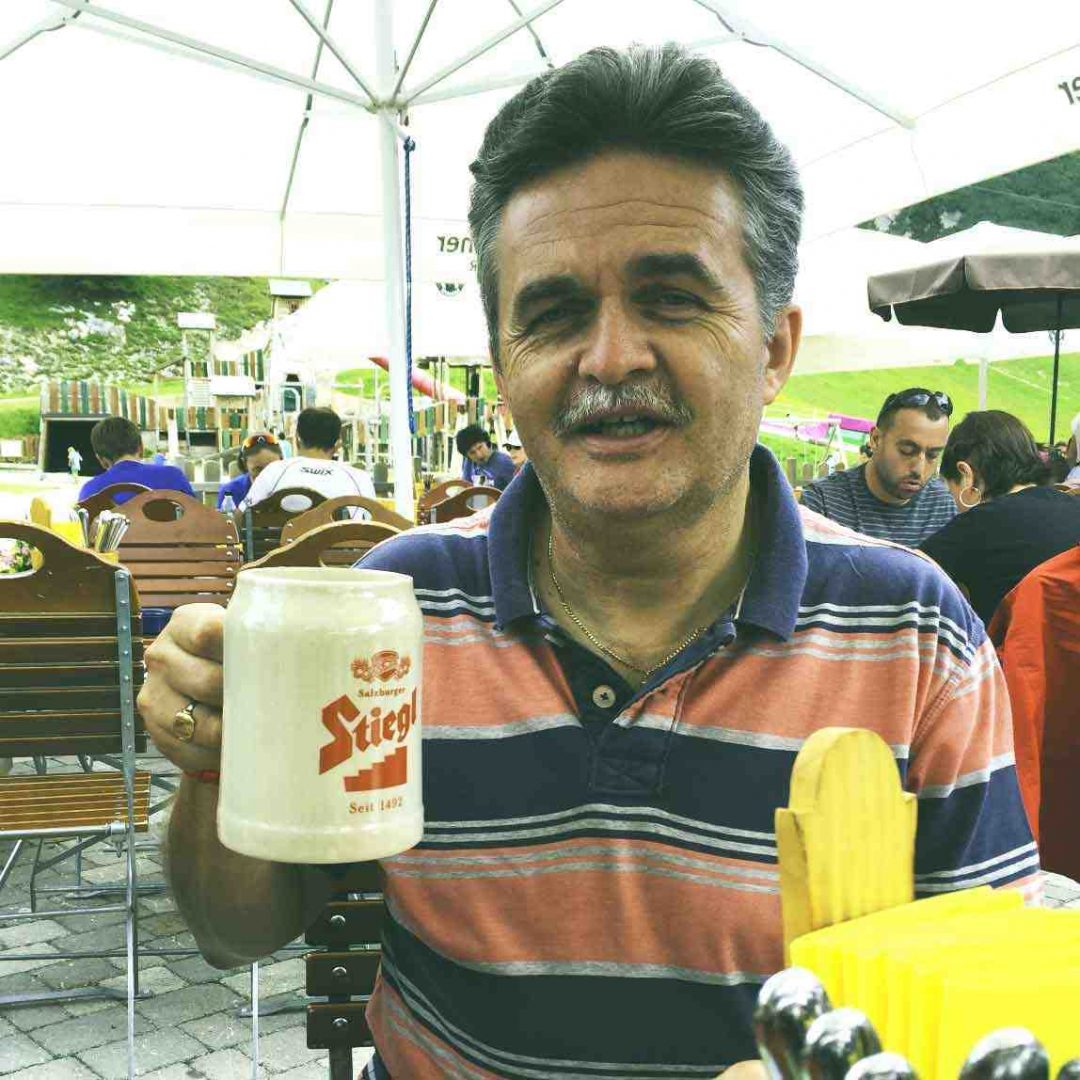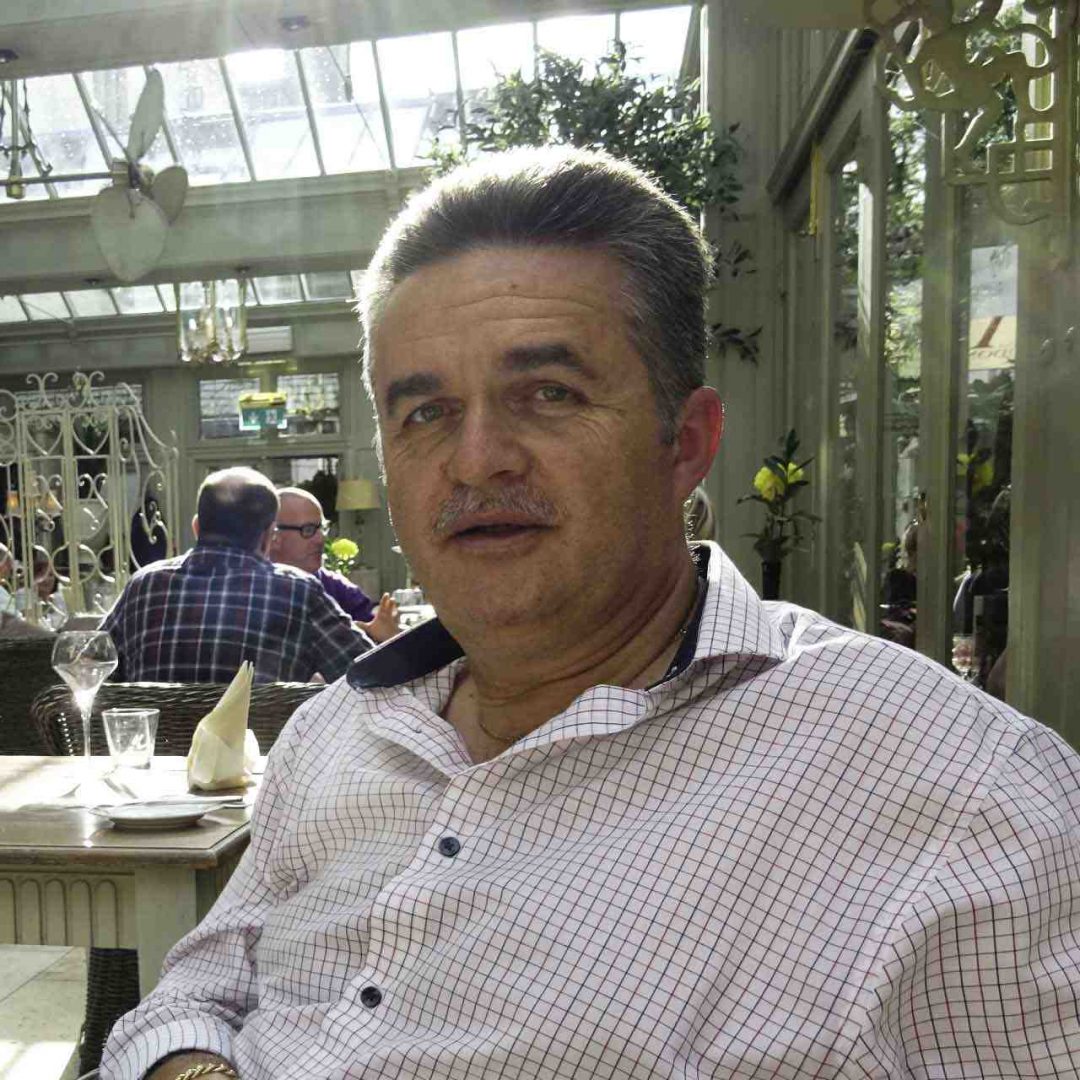 As the printing industry underwent transformation in the late 1980's, so too did the die-making industry. Quick to embrace change, Tomlinson Ltd invested in digital CNC cutting machinery which saw the company manufacturing high quality brass foiling dies in super-fast turnaround times. However, in the early days of CNC-machining, advanced software capable of replicating the intricate embossing detail to match that of a skilled hand-engraver was yet to be developed. Thus, for a number of years, traditional, hand-engraving skills and cutting-edge technology sat side-by-side in Tomlinson's busy factory.
But that would soon change. "I can clearly remember the day that I was first asked to have a go at programming a die on a computer," Paul reminisces with a smile, "but the issue was that I didn't know how to turn one on - I couldn't even find the 'on' button!". It must have been a daunting prospect, yet with support, encouragement and training, Paul rapidly adapted. "My familiar chisels were substituted for a mouse, a keyboard and a pen," he states, "and now I can't envisage ever engraving a die by hand again".
Although Paul can no longer imagine picking up his trusty set of chisels to manually engrave a unique and beautiful multi-level embossing die, it's clear that many of his skills remain vital when programming a computer to do it instead - in particular, his ingrained ability to conceptualise how an artist's design can be brought to life in 3D.
There is so much more I could tell you about the talented Mr Tillsley who's a true credit to Tomlinson. His innate artistic and creative abilities are demonstrated in every single job he's involved in producing at Tomlinson's, and his loyalty, conscientious approach and the pride he takes in his work shine through as he talks.
So, the next time you see a beautifully detailed embossed image on a greeting card, label, business card or item of packaging, consider the unique talent, skill and years of experience that have gone into making it happen because, behind it, lies an accomplished craftsman like Paul Tillsley.